Custom Made Waterbed Sheet Sets for Hard Sided water beds available in all sizes and fabrics. Our standard sheet set design for waterbeds consists of:
       ·

       
1-Bottom Sheet
    (4) large corner pockets keep the sheet in place
·

       
1-Top Sheet
         Generous Width - (sewn) at the center foot end.
·

       
2- Pillow Cases
     Choose any size (1 case only with single or super single)
Options include:   
Unattached Waterbed Top Sheet:
Top sheet is separate from the bottom sheet and corner pockets are added at the foot end.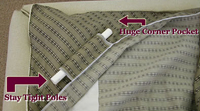 Sta-Put Pole Option:
We sew an additional loop at the end of the waterbed sheet pocket so you can insert a plastic tube (included). Once the pole is inside of the pocket the waterbed sheet corner is much easier to handle and put down underneath the waterbed mattress. Since the pole keeps the pocket fully open the waterbed mattress easily fills the pocket. The pole wedges itself in the frame corner and the weight of the waterbed mattress keeps it tucked!
 Need A Mattress Pad?  Go to:  Quilted Mattress Pads